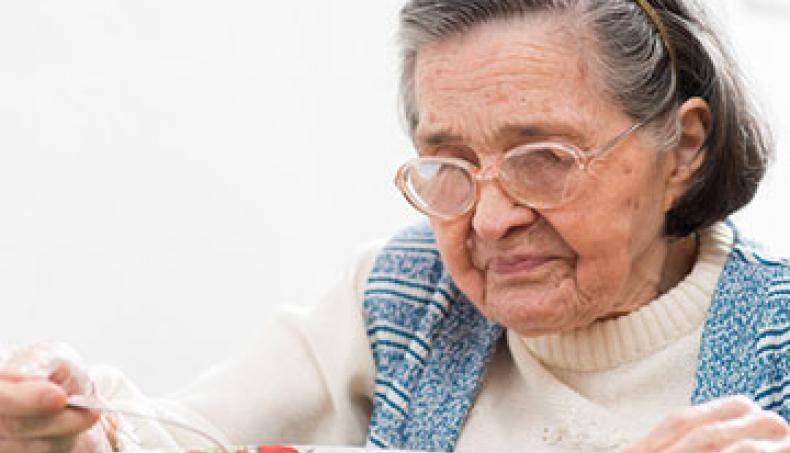 Combating Malnutrition in Older Adults During Coronavirus
4.30.20
•
ChenMed News Staff
Even in the best of times, older adults are at higher risk for malnutrition. Now, with the advent of COVID-19 and requirements to shelter in place to minimize contagion, many seniors have even less access to the healthy foods they need to maintain a robust immune system and ensure their overall health.
"We often see malnutrition among our patients, who are mostly low-income seniors. Even under ordinary circumstances, many of them aren't getting enough of the right nutrients, or they're not getting enough food in general," says Jessica Chen, MD, Chief Quality Officer at ChenMed. "With COVID-19, and our strong position that our patients should not leave their houses, things become a lot harder in terms of them getting healthy foods."
Not only are older patients being told to avoid public spaces, including grocery stores, they are also cut off from social programs that may have provided them with meals and snacks, not to mention the human engagement that feeds the spirit. 
Inadequate Nutrition Among Older People is Widespread
Malnutrition in older adults is common, and it often goes undiagnosed and undocumented by clinicians. In "Hidden Hunger: Solutions for America's Aging Population," published in Nutrients, researchers found that under consumption of many key nutrients is widespread among adults in the United States over the age of 71.
"Hidden Hunger" highlights annual data obtained from 5,000 individuals in the U.S., which shows that 90 percent of older adults consumed insufficient fiber; 97% too little of vitamins E and D; and 78% too little calcium.
In addition to access and affordability issues, several other factors contribute to undernourishment in older adults. "As a person grows older, their body doesn't absorb nutrients as well as it once did," notes Chen. Medications that older adults often use, such as antacids, can interfere with nutrient absorption. Older people may also spend less time outside than younger ones, limiting their skin's exposure to the sun and thus its ability to produce vitamin D. Also, people with dark skin naturally produce less vitamin D.
Yet good nutrition is perhaps the most important factor influencing any individual's ability to mount a strong immune response to pathogens, including the novel corona virus. A diet lacking enough protein can reduce the body's ability to generate enough of the immune system cells and substances, such as phagocytes and cytokines, that equip the body to suppress or eliminate dangerous microorganisms such as viruses. Over-nutrition and obesity also reduce immunity.
Micronutrients also play major roles in immune responses. Insufficient amounts of nutrients can severely diminish immune system strength, even when the deficiencies are mild. These micronutrients include zinc, selenium, iron, copper, and folic acid, as well as vitamins A, C, E, and B-6.
Malnutrition not only impairs immunity, it also leads to muscle weakness, frailty, and falls.
 
Healthy Food: Yes. Leaving Home: No
During the pandemic, ChenMed healthcare providers have committed to making sure that patients can still obtain plenty of healthy, appealing foods while they remain at home. Such efforts have been made easier by ChenMed's value-based healthcare model: Thanks to frequent contact with patients, care teams are already very familiar with patients, their families, and their living situations.
"The entire care team knows the patient. That is fundamental in our model. They know who will have an especially hard time during this crisis," says Colleen Mourra, Associate Director of Population Health Management at ChenMed. 
Jessica Chen routinely encourages her patients to eat a plant-based diet, and she works with them to understand that such a diet can be affordable. During the pandemic, staff members at ChenMed have quickly stepped up, taking on unfamiliar roles in the interest of best supporting patients. "For example, all our staff who normally coordinate care with outside specialists have shifted over to meet the current needs," says Chen. 
 
Meal Services That Make an Impact
Each ChenMed center employs a social worker. Those social workers and other staff members in various ChenMed locations have responded to the crisis by tapping into their own networks and resources to provide seniors with nutritious foods.
"In Louisiana, the ChenMed staff is working with a food bank, which is bagging up food for the seniors and dropping off packages at the clinic," says Mourra. From the clinic, ChenMed staffers have been fanning out to deliver the food to patients' homes, as well as to other members of the community.
A social worker in Kentucky has called upon her own circle of friends and volunteers in the community, enlisting retired firefighters and police officers to help bring food to ChenMed patients and also to other homebound people needing donated food.
In Philadelphia, food banks were successfully providing patients with nonperishable food. "So the social worker there identified a farmers market that is making packages of fresh fruits and vegetables that we can provide to our patients," says Mourra.
In Georgia, the ChenMed team has instituted "Love Friday" as the day that members of the care team deliver parcels of donated healthy food. The ChenMed staff members often add uplifting messages to remind patients that they are not alone. Sometimes the team adds small craft projects that the patients may enjoy doing.
 "Our whole staff, at all our locations, shares one goal at this time," says Chen. "We are all committed to doing the absolute essential things that are needed to keep our patients healthy, happy and at home."
The doctor-patient relationship is at the core of everything we do at ChenMed. Learn more about our high-touch model and consider practicing medicine the way you always imagined.

ChenMed is a full-risk primary care market leader with an innovative philosophy, a unique physician-led culture and end-to-end customized technology that is providing coordinated, world-class primary care to the most vulnerable population - moderate- to low-income seniors with complex chronic diseases.
Did you know?

Our patients spend 33% less time in the hospital.

Learn more about the ChenMed story!